Basic Weirdness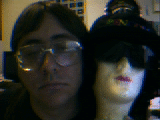 The author is not responsible for the state of your mind if you read this.
Some of the following may include political satire which, due to recent events, may not seem funny anymore (or may be even more hysterical). The author can but shrug his uninjured shoulder as if to say, "I told you so."
Copyright 1988-1994 by Roadkills-R-Us, Austin, TX. All rights reserved. All lefts available at substantial discounts.
Contents
---
Last updated: 06 February 2010 Miles O'Neal <roadkills.r.us@XYZZY.gmail.com> [remove the "XYZZY." to make things work!] c/o RNN / 1705 Oak Forest Dr / Round Rock, TX / 78681-1514