What's Up with Tiffany?
Mid-spring this year (96), our pastors' 8 year old daughter, Tiffany Hall, began acting very sick - massive headaches, vomiting, sleeping 21 - 23 hours a day (this is your basic, high-energy 8-yo, normally). The doctor, of course, said it was just a sinus infection. They finally got a doctor to do some real tests (gotta love them HMOs), which got someone's attention so that they did a brain scan.

One each, lemon-sized tumor on the brain stem.

The whole story (see below), documented here through on-line prayer requests, discussions with friends, etc, is pretty wild, and well worth reading. For now, though, here's the...
Current Status
7 Apr 97 (00:55 PM):
Almost a year from the day Tiffany was first operated on, she died. The family, and all of us, were hit really hard by this. We are still struggling with what we heard, and with what has happened. We covet your prayers.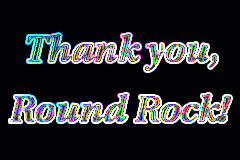 The Halls still owe gazillions in medical bills that insurance refused to cover (not unusual with cancer). Any help you can give will be greatly appreciated! And whether you help with the finances or not, please keep praying.

What can we do?
Pray. The Halls need your prayers and support. They have, however, specifically requested "no calls, no visits" at this time. They need to focus on rebuilding their family, and need time to hear God and stay immersed in His word. If you wish to communicate with Dennis & Vicki, they have requested that you do so through the Round Rock Chapel office; you can call (1-512-388-2200) or leave anything you wish taken to them.

Round Rock Chapel
2000 North Mays
Round Rock, TX
78664
USA

There is a fund to help pay the medical bills and some other incidentals. Even with insurance, cancer costs a fortune to deal with. You can contact Hope Chapel in Austin (the fund was set up though this, our sister church) at 1-512-453-7012 or send a donation directly to:

Hall Family Trust Fund
c/o Hope Chapel
6701 Arroyo Seco
Austin, TX
78757
USA

Please don't try to contact the Halls directly. They are busy enough right now. You can contact the Round Rock Chapel office at 1-512-388-2200 or just contact me via email.

A fund has been established in Tiffany's name at Austin Bio Med, a laboratory which collects blood plasma. Donors are paid for their time. Those of you around Austin who wish to help with the Hall's medical expenses can call ABM at 255-8855 to set up an initial interview. That first appointment takes about 3 hours, but donation time after that is usually only an hour. You can donate up to twice a week, with $20 going into the Halls' fund each time, and helping others as well.
Pray.
I would rather you not redistribute this document. Instead, point people to this web page, or have them send email to meo@rru.com for the latest details. That will help prevent this from turning into another Craig Shergold fiasco! If you do redistribute this, please make sure they contact Hope Chapel or myself before they send anything, or before they pass it on! Feel free to link to this page. Thanks. This is all heavily tied in to the vision He's given us for revival (from the beginning, he showed Tiffany's mom that this was something bigger than just Tiffany (as if that isn't enough!), that He was going to bring revival through the situation). That as we really seek Him, and dwell in His presence, prayers for healing will naturally flow, and the healing (many types, and not just Tiffany's) will supernaturally flow. This is what we saw happen at youth camp this year, and He told at least two of us that what we saw at camp was a foretaste, and in a way a vision, of what He wants to be doing throughout the church. And He means "the church", not just Round Rock Chapel. And it's happening!

You can also see the previous status reports.
Last but hardly least!
If you or your church, prayer chain, mailing list, or whomever is praying for the Halls, please let me know the name and address (email or post) of the person, church, or other group. It is an encouragement to all of us, and a testimony to the world. Round Rock Chapel and the Halls would also like to be able to send a thank you.

The Halls really appreciate the prayers and gifts. And I wish that I could also thank each one of you who has prayed, written with encouragement, or sent a love gift. God bless you, every one!

Footnotes

Tiffany was very, very special to my immediate family. In many ways, all of the Hall children are like other children to us. Their open arms and open love helped sustain me during the time I was away from my family, waiting for our house in another state to sell so that they could join me.
---
This page is part of the Tiffany Hall Memorial Webring
---
Last updated: 04 February 2002

Copyright 1996-8 Miles O'Neal, Austin, TX. All rights reserved. Pages maintained by Miles O'Neal. Web service provided free of charge by Net Ads. Miles O'Neal <roadkills.r.us@XYZZY.gmail.com> [remove the "XYZZY." to make things work!] c/o RNN / 1705 Oak Forest Dr / Round Rock, TX / 78681-1514