Mí família


One of these is my beautiful wife, Sharon. The other is her (also beautiful) twin sister, Karen. Which is which?
(Both photos were taken on their birthdays at Chuys in Austin [#2 on Lamar].)
True story. I've never had any real problem telling them apart. Maybe two or three times over the phone (when they're away together), and never for more than a few seconds. Once, just after Sharon and I got engaged, I was at her dorm waiting for her to come down. Karen came around the corner saying, "Hey, honey". I just went "hey, Karen", and she went back around the corner, giggling. I realized then they had tried to fool me. I told them that if they ever did that again, I'd greet Karen with a more passionate kiss than she could imagine. Nipped that little trick in the bud!

<== Here we are at a Pencom Christmas dinner in 1995. Unfortunately, my face is no longer hidden this well, so I have to wear a veil in public in order not to scare small children. I occasionally remove the veil in the presence of cats, small, barky dogs, or certain unsavory government employees. (NOTES: Yes, I'm smiling. Photogenic I'm not. Yes, I was forced at gunpoint into a tie, but at least it was an Alfred E. Neuman tie! Seriously! Also, there are a few important notes about this photo.)

To the right (==>) you can see Sharon and me at a Round Rock Chapel Valentines Banquet in 2004. We're not really sunburned; the place is just chock full of red and pink because it's V-Day. This photo is for those folks who claim I never wear a suit; as you can clearly see that isn't true. Like bathing, I do it at least once a year. If you look closely, you'll notice my chameleon-like hair is changing color to match the suit. Observant folks will notice that I am not wearing a veil in this photo. On the other hand, the camera and photographer turned to stone, and you've probably started that process as well. On the gripping hand, I want Sharon to wear a veil so nobody tries to steal her.
We home-schooled for years, but now that Esther and Josiah are grown, she's coaching young mothers through the birth process and being a mentor. She has a real servant's heart.

Esther, Now and Then
Our beautiful daughter, Esther, is as happy as a clam in front of a camera. (Have you ever wondered how happy clams get? Just observe Esther in front of a camera. If clams got feet, they must be happy feet.) She will not only willingly sit in front of one known to be loaded and ready to fire, she seeks the experience out, even pays for the privilege (several of the photos on this page are from self-loading, fully automatic photo booths - which the failed Presidency of Clinton failed to ban). Here are some typical Estherical aspects, more or less now, and back then. Esther graduated from Hilltop in May, 2002. She has since spent a year at TeenMania's Honor Academy and a year in the U.S. Army training as a medic. Unfortunately she ended up with pneumonia and some subsequent issues, resulting in a medical discharge. She recently got married and is expecting a baby girl (Elizabeth Anne at the moment) in April, 2009.

Two of the things Esther has always enjoyed doing are dressing up nicely and dressing as some other character. With the veil, she's trying to pass as a Turk (or perhaps a random Muslim, I forget which). Dressed in the wig, with the parasol, she rang the doorbell one day while I was working at home, and pretended she was a Jehovah's Witness!

| | | |
| --- | --- | --- |
| Smile! | Thinking of Chuys | Reflecting |
| | | |
| In disguise | Sports banquet '01 | Chuying |
| | | |
| Thoughtful | In disguise | All dressed up '97 |
Josiah, Now and Then
At one time Josiah, like his sister and all devoted bodyguards, would happily hurl himself into harm's way, especially if the weapon being aimed was a camera. But now he's rarely willing to suffer a photo. So, whereas we have tons of photos of Esther (she still loves cameras), we have far fewer of Josiah. Most of those are from sports or special occasions. Coach Mixon was Josiah's basketball and football coach; Josiah (and most of his players) would follow him to hell and back (Josiah figures he already did that, when they played Hill Country San Marcos, whose football players were all roughly the size of pickup trucks). Josiah was planning to become a U. S. Navy S.E.A.L., but ended up joining the army. After OSUT at Ft. Benning, he was supposed to go Airborn and transfer to Italy, then Iraq. But the army decided they had enough airborn troops, and sent him to Ft. Hood to train for Iraq. With his nearly perfect ASVAB, the brass at Ft Hood snatched him up as a headquarters weenie. He deployed to Iraq in the fall of 2005 where he was on PSD (Personal Security Detail) for a general. He got back about a year later, and is currently stationed at Ft. Carson. He got married by a JP on 19 Dec, 2008 to Terri. We haven't met her yet, but we've really enjoyed talking to her on the phone, and welcome her to the family. They're expecting a baby in August, 2009. (Since Josiah's web page hasn't been touched since he was about 12, I removed the link.)

| | | |
| --- | --- | --- |
| Junior Year | Coach Mixon | Freshman Year |
| | | |
| Sophomore Year | Military Ball with Nicole | Christmas, 2001 |
| | | |
| At a launch | Tiffany's party | The mouth |

That's my twin brother, Jon, and his wife, Jen, on the left in the Cape Canaveral West photo (click on "At a launch").
And speaking of Chuys, here are the four of us crowded into the photobooth our first trip there as a family.



DoptaKids
There are a number of kids I love as if they were my own. Sharon used to say she wanted a big family. After we had two children the normal way, I felt I had my hands full. But as they got older and I (and later Sharon) got involved with the teenagers at church, I found a whole new set of kids. I love Esther and Josiah dearly; these are not replacements! I didn't feel any lack just having Esther and Josiah, but God had other plans, and I'm fine with that. Alas, I have no photos of most of these.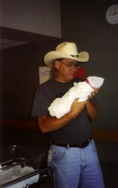 Shaunda and...
Shaunda and Ashley were the first two girls I thought of as being really like family. Shaunda's dad died years ago; with her and her mom's permission I've tried to be a dad to her. Josiah used to wrestle Shaunda a lot. The photo on the left was taken at Shaunda's 21st birthday party at (surprise!) Chuys. (Chuys no longer does the hat thing.) Shaunda got married the last weekend in May of 2005 to a fine young man named Kevin. They have two lovely children; Sadie Lee (in my arms in photo, named after Shaunda's grandmother), and Kenny.

...Ashley
Ashley came to live with her dad (Mario) when she was about 11, so I'm more of an uncle to her, though she's been known to call me her "other dad". Shaunda also calls Mario "dad", so it all evens out... Ironically, my baby sister Kelly married Mario, so she literally became my niece! Ashley and Shaunda have thought of each other as sisters practically since the day they met. Ashley married her love of several years early in 2005, Trent, with whom she has a beautiful daughter (Kylie). We missed their wedding because of my mom's death.
The Bonnell Girls
Vicki Bonnell (whom Sharon used to refer to as my other wife, at which point they both called me Abraham) has three daughters she raised mostly by herself -- Becky, Mandy and Jenny -- and we love them all dearly (even though we hardly get to see them any more.) They haven't all given me pictures, but Vicki slipped me this one of Amanda (on the left). She didn't have her bellybutton ring yet, or she might have worked it into the picture. Amanda has children now.

Becky had the beautiful babe (Sierra) on the right in '96. I know all babies are supposed to be beautiful by virtue of being babies, but Sierra is just plain beautiful by any standard. In fact, she was one of the most beautiful babies I've ever seen. Of course, beauty runs in the family, as you can see by the picture of her Aunt Mandy above. Becky has two other children, but I have no pictures of them.

I have no pictures of Jenny or her child, but pretend there's one of them, too.


Sarah
Sarah showed up in our youth group after her sophomore year, just a few weeks before youth camp. She seemed pretty shy, so I sat near her on the bus home from camp (8 hours or so, the poor girl!) and got to know her. Her folks were divorced, and her Dad hadn't been around a lot lately. She's married now to a really cool guy named Rick (since 2005) who's an associate pastor and youth pastor, and her dad's around a good bit more. The lady to her right in the expanded photo is Shaunda's mom, Connie, and the lady cut off at the extreme right is Shaunda's grandmother, Sadie. We missed Sarah and Rick's wedding due to my mom's illness.
Stephanie and Jessica
Stephanie and Jessica have a dad in another state, who up until recently they seldom heard from much. This time, though, I clearly heard God say, not to be like a dad to them, but to be their Dad. Frankly, I had no idea how to do this. I just had to make it up as I go. Stephanie had a beautiful baby in mid-2004 and married Blue, the dad. They're doing really well. Jessica is going to college and trying to figure out what to do with herself. Stephanie's a country western girl, Jessica's a punk/rock sort of girl. They both like Sponge Bob Square Pants.

Paige
Paige had a dad nearby, but called me her "church dad". After an exceptionally rocky sophomore and junior year, she moved out on her own. She now has a beautiful baby. Her favorite parts of high school were orchestra and naval ROTC. She's crazy (one of the reasons we get along so well) and collects rubber ducks. The photo to the right includes Amber (left) and Paige (right). Amber is her best friend, but is now in Maryland. Paige hates this picture, but I'm leaving it up until she gets me another one. Paige now lives in Oklahoma with her mom.

Nicole is on the right; my wife Sharon is on the left. (Nicole doesn't like having her picture taken, so she wanted someone else in it.) This is the young lady in the photo with Josiah at the military ball above; she was also in naval ROTC. She still has her dad, so I try to play more of a close uncle role. I never want to come between these teens and their fathers; I just want to be there for them however I can. Like all my girls, she's beautiful; like most of them, she sees to have a hard time believing it. Dads, tell your daughters how beautiful they are! She has a son, Julius, and a girl on the way.
Dallen and Tracy
Yes, finally, a doptason to go with the doptadaughters. Dallen graduated in 2004 and spent a couple of years at Christ for the Nations and like a year in the Amazon jungle. Now he's back in the concrete jungle, Dallas.

Tracy graduated in 2006 and is working for the state. Dallen played football (I only got to see him play in one game), and plays guitar and sings in a band. Tracy was in the band at school. They're both tons of fun and hysterical to hang out with. Sadly, I have no pictures of these two.
Dmitri

D-Man showed up at youth around 9th grade. He graduated from Stony Point HS in 2007 and is now working and saving for college. He's a ton of fun, loves basketball, bowling, bass and guitar, and (as of recently) target shooting. He's also 6'9" plus hair, and probably not through growing. He and Sondra are good friends, and it's funny to see them together, because she's much, much shorter.
Sondra and Tatiana

Sony started coming to youth on her own around the 9th grade; she later asked us to be her god-parents and we happily accepted. Her daughter, Tatiana, was born in the 21st of July, 2008; she's just as beautiful and sweet as her mom. Sondra's working and saving for college. For her 19th birthday, all she wanted was "to go shooting!" So we did.
The rest
I'll add the rest soon. I just realized this was waaay out of date. I need to get some photos scanned, etc. Check back soon to see Michelle and some of my nieces and nephews!

I once saw a bumper sticker whereby a parent proclaimed that they were proud of their kids whether they were honor students or not. I can relate; I'm proud of my kids and I love them all dearly. I don't tell them that nearly enough, but it's true.

Well, it's not much of an introduction, but at least now you have a little idea who we are...
---
Last updated: 01 January 2009

Copyright 1997, 2002, 2004, 2007 Miles O'Neal, Austin, TX. All rights reserved. Miles O'Neal <meo@XYZZY.rru.com> [remove the "XYZZY." to make things work!] c/o RNN / 1705 Oak Forest Dr / Round Rock, TX / 78681-1514