The RRU GIMP Tutorial
Introduction
Last updated: 30 August 1998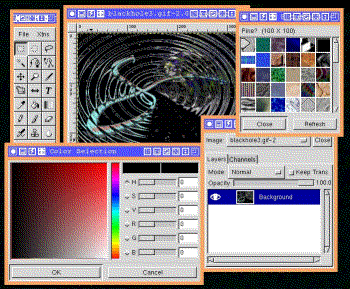 In the words of its authors, Spencer Kimball and Peter Mattis...

``GIMP is an acronym for GNU Image Manipulation Program. It is a freely distributed piece of software suitable for such tasks as photo retouching, image composition and image authoring. Many people find it extremely useful in creating logos and other graphics for web pages (all of the graphics on this web page were created using GIMP). The GIMP has many of the tools and filters you would expect to find in similar commercial offerings, and some interesting extras as well.''

The GIMP is built on top of the GTK (GIMP Toolit), which in turn is built on top of the GDK (GIMP Drawing Kit). The GTK and GDK were developed for the GIMP, but are extremely useful in their own right and are beginning to see use in other projects as well.

The GIMP was originally built on top of Motif. Partially to make the GIMP more freely available, and partly because Motif is fairly painful, the authors developed the GTK and GDK. The GTK provides all the standard GUI components, but the look and feel is much closer to WindowsTM than to Motif. The GDK is basically a wrapper around Xlib.

You may want to find out about starting the GIMP and its command line options or you may just want to jump right in to using it.

---
Last updated: 30 August 1998

Copyright 1997, 1998 Miles O'Neal, Austin, TX. All rights reserved.
---
Miles O'Neal, <meo@rru.com> 11501 Johnson Rd / Leander, TX / 78641-5823