Cans R Us
Will Geoffrey Sue Homeless?
And for what? Their cardboard boxes?
Thanks to Jamie Grove for this heads up.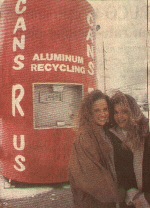 ``This picture appeared in the 3/6/96 Columbus Dispatch. That article reads...
"Pair Starts Business to Benefit Homeless:
Two Madison Country women are hoping profits from their aluminum recycling business will help end a cycle of poverty and homelessness..."
There's more, but you get the gist. Think the long-necked one would want to sue these lovely ladies?''

[RRU] [TRU vs RRU Page] [Letters Index]
Last updated: 25 October 2001
---


Copyright 1995-2001 Roadkills-R-Us, Austin, TX. All rights preserved, jellied, or jammed. All giraffe images based on an image courtesy of Philip Greenspun. Gratefully used with permission. Roadkills-R-Us and RRU are trademarks of Miles O'Neal <meo@rru.com>. Web space provided by Net Ads.